Submitted by Peggy Backman: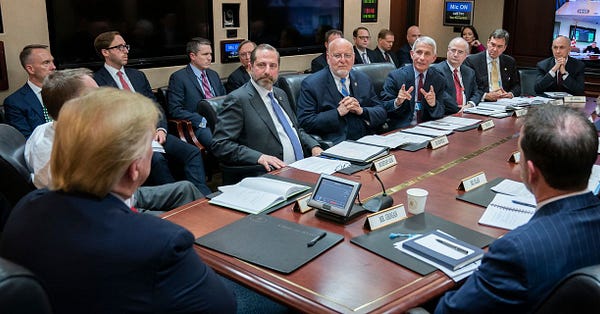 https://www.reuters.com/article/us-health-coronavirus-usa-hhschief-speci/special-report-former-labradoodle-breeder-tapped-to-lead-u-s-pandemic-task-force-idUSKCN2243CE
I'm going to start tonight with an important story that slipped under the radar on a day when one outrageous performance after another grabbed headlines.
On its surface, the story doesn't seem terribly important. A number of congressional committees have asked the Office of Personnel Management for updates on how the OPM is handling working conditions for federal employees during the coronavirus crisis. OPM is declining to answer the requests. "It has always been difficult to get information from this administration, but the refusal to provide Congress with a basic briefing during a pandemic is especially egregious," said a Democratic Senate aide to Politico reporter Daniel Lippman. "We've never been denied a briefing like this before."
But the story is actually very significant. The OPM oversees the 2 million workers in the federal government. In mid-February, after Republican Senators acquitted him in his impeachment trial, Trump set out to purge the federal workforce of civil servants, whom he sees as "snakes," and replace them with political appointees loyal to him.
To head the Presidential Personnel Office, which recruits candidates for the executive branch, Trump brought in John McEntee, who had been fired from a former position in the White House by former chief of staff, John Kelly, over a security clearance. On March 17, McEntee forced the director of the Office of Personnel Management, Dale Cabaniss, who had significant personnel experience, to resign. Michael Rigas, formerly of the right-wing Heritage Foundation, took his place. (Phew. I know… but this is going somewhere important.)
The change from Cabaniss to Rigas at the head of OPM transpired just as the novel coronavirus pandemic hit the nation hard.
Rigas has said he believes the 1883 Pendleton Act is unconstitutional. Congress passed the Pendleton Act, also known as the Civil Service Act, after a mentally-ill office seeker shot President James Garfield in 1881. Until then, government positions had been handed out to political loyalists, regardless of their capacity to do the job, but the assassination created a public outcry. Charles Guiteau shot Garfield with the expectation that, once elevated to the presidency, Garfield's vice president would give Guiteau the position his delusions made him think he deserved. The assassination built momentum behind the idea that government should be non-partisan, and that positions should be filled by people actually equipped to do the job. This sentiment has ruled the nation ever since.
Non-partisan civil service has proved a blessing to the nation in two ways. First of all, over time, as more and more positions came under the act, the government got much more efficient. Second, a non-partisan corps of officials has kept the nation stable since they give their loyalty to the country's government, rather than to any particular president. Administrations come and go, but government bureaucrats keep the nation on an even keel.
Now, Rigas, the man at the head of the federal government's 2 million workers, wants to get rid of that system and make all employees of the executive branch political appointees, loyal not to the country but to Trump. Rigas is working with McEntee at the PPO. As of a few weeks ago, agencies now have to submit job openings to the PPO to see if they have anyone they want in the position before they can submit their own choice for it. PPO is filling positions with keen regard for their loyalty: recently it has hired four college seniors to become administration officials.
OPM is the office that is refusing to tell Congress what it's up to.
Today offered some guesses. Dr. Rick Bright, the director of the Department of Health and Human Services' Biomedical Advanced Research and Development Authority, or BARDA, claimed that he was let go from his job for crossing Trump. BARDA is charged with protecting us from pandemic influenza and emerging infectious diseases (EID) and Bright is a specialist in those areas. He headed the federal agency developing a coronavirus vaccine, and refused to use the agency's significant budget to promote hydroxychloroquine, the anti-malarial drug Trump has been pushing as a treatment for the coronavirus. Bright was transferred to a less central position at the National Institutes of Health, but has refused to resign his position at BARDA.
Bright and his lawyers say his removal is retaliation and that he will be filing a whistleblower complaint. "I believe this transfer was in response to my insistence that the government invest the billions of dollars allocated by Congress to address the Covid-19 pandemic into safe and scientifically vetted solutions, and not in drugs, vaccines and other technologies that lack scientific merit," he said in a statement. "I am speaking out because to combat this deadly virus, science — not politics or cronyism — has to lead the way."
Bright's defense of science over politics got a boost with Tuesday's news that hydroxychloroquine is not only ineffective against Covid-19, but possibly worsens the outcome for those who take it. A study of 368 patients at Veterans Affairs showed that those given the drug were more likely to die than those who weren't. After much hyping of the drug, Laura Ingraham and other Fox News Channel personalities have suddenly gone quiet on it. Trump, who hailed the drug as a "game-changer" but who has stopped talking about it lately, said he did not know of the bad report, "but we'll be looking at it."
Demanding loyalty to Trump is about cementing the power of the president, and service to that power means he will sacrifice his loyalists whenever necessary to protect himself. People are noting that Trump tossed Georgia Governor Brian Kemp under the bus today over Kemp's reopening of certain Georgia businesses against the advice of public health officials. After a week of calling for states to reopen, Trump told reporters that he "disagree[s] strongly" with Kemp's decision to start that process.
But Kemp and Trump have clashed before—Trump wanted Kemp to appoint key Trump supporter Doug Collins to the Senate seat that Kemp gave to Kelly Loeffler (now in trouble for insider trading)—so it's not a huge surprise that Trump hung Kemp out to dry.
Today's more significant underbussing was that of Alex Azar, the secretary of the Department of Health and Human Services, who was skewered in a piece in the Wall Street Journal for what appears to have been extraordinarily inept handling of the coronavirus crisis. My guess is that he is shortly going to be out of a job, taking the blame for the White House's poor response to the pandemic.
Considering that Trump's OPM wants to remove qualified civil servants from the government in favor of political cronies, the piece of the Azar story that has attracted the most outrage is ironic. Azar tapped a key aide with little experience or education in public health, management, or medicine to head up the response of Health and Human Services to the coronavirus crisis.
Before going to work for Azar, the aide, Brian Harrison, was a dog breeder who specialized in labradoodles.
Notes:
McEntee: https://www.axios.com/johnny-mcentee-white-house-d1c29eee-8b0a-4c4d-8ba4-9355f3c27f4f.html
Cabaniss resigns: https://www.politico.com/news/2020/03/17/opm-chief-resigns-134541
PPO and OPM: https://www.politico.com/news/2020/04/21/democrats-blast-trump-federal-workers-coronavirus-199026
Bright: https://www.nytimes.com/2020/04/22/us/coronavirus-live-coverage.html
https://www.nytimes.com/aponline/2020/04/22/business/ap-us-virus-outbreak-hhs-whistleblower.html
https://www.cnn.com/2020/04/22/politics/rick-bright-barda-trump-coronavirus/index.html
https://www.thedailybeast.com/study-of-hydroxychloroquine-trump-promoted-coronavirus-drug-finds-more-deaths
https://www.nytimes.com/2020/04/22/business/media/virus-fox-news-hydroxychloroquine.html
Kemp: https://www.nbcnews.com/politics/donald-trump/trump-reverses-course-says-too-soon-georgia-reopen-n1190061
https://www.politico.com/news/2020/04/22/trump-kemp-georgia-reopen-coronavirus-202117
If you liked this post from Letters from an American, why not share it?