The Trump presidency is opening up a new battlefront in the intense and controversial war over American voting rights. After a decade of wrangling between Democrats who have sought to expand voting opportunities and Republicans who have invoked the specter of voter fraud to restrict them, the focus is now on purging registration lists – even at the risk of kicking large numbers of eligible voters off the rolls.
Both Trump's justice department and his newly formed Presidential Commission on Election Integrity are involved in broad data collection and new policy proposals to "clean up" the voter rolls in ways that critics fear will have a disproportionate impact on blacks, Latinos and newly naturalized citizens.
The justice department (DoJ) has also begun issuing legal opinions to support states that have passed restrictive new voting rules, even when they appear to contradict existing federal law. Voting rights activists say these efforts are kicking voter suppression into a higher gear at a time when federal courts are ruling that a flurry of strict new voter ID laws in several Republican-run states discriminateagainst minority voters and college students.
"There are three major aspects of the voting process – getting registered, making sure you stay registered, and actually voting – and in all three areas we are seeing efforts to suppress the vote," said Ezra Rosenberg, a voting rights specialist with the Lawyer's Committee on Human Rights Under Law.
The commission, chaired by vice-president Mike Pence but spearheaded by its vice-chair, Kris Kobach, an ardent champion of repressive voting laws in his native Kansas, has made few public declarations of intent except to ask states in late June for exhaustive information on individual voters. The move led to immediate pushback from the states and from a former Department of Homeland Security chief who said the information could pose a cybersecurity threat.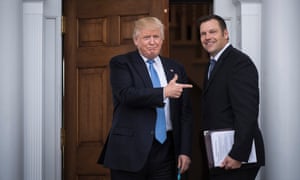 The panel held a livestreamed session in July, but only just held its first fully public session last week. Kobach told reporters afterwards that the commission had received data from 20 states so far but was characteristically guarded, even coy, about what he intended to do with it. "[The commission] may make recommendations, or I think at this point there's a high possibility the commission makes no recommendations and they just say, 'Here's the data. States, do with it what you want.'"
Still, voting rights experts and election lawyers are in little doubt what Kobach would like to do. He has made numerous public statements – including in a paid column he writes for Breitbart News – tantamount to a wish list. It includes:
Taken together, these measures would represent a significant assault on the right to vote and, to judge by Kobach's record in Kansas, are likely to be tied up in court for years.
Especially frustrating to election managers – of both parties – and voting rights advocates is the fact that Kobach has asserted the existence of problems, like noncitizen voting, that are in fact passingly rare.
Justin Levitt, a former senior official in the DoJ's civil rights division, now with the Loyola Law School in Los Angeles, said Kobach had in many cases picked up on legitimate issues and then twisted them to reach "a precooked but half-baked conclusion" about voter fraud on an epidemic scale.
"List maintenance is a little bit like surgery," Levitt said in an interview. "When it's done by people with skill and precision tools in a calm environment, it can be tremendously helpful, even life-saving. When it's done sloppily by people who don't know what they are doing on a shaky table in a hurry, it can be quite dangerous. What Kobach wants is surgery on a rickety table with a chainsaw."
Kobach did not respond to an interview request from the Guardian.
To counter the mainstream studies dismissing many of Kobach's assertions, his supporters have begun generating a research trail of their own. One rightwing thinktank called the Government Accountability Institute (cofounded by Steve Bannon with money from Robert and Rebekah Mercer) recently turned to data companies using questionable fuzzy matching to postulate the existence of more than 8,000 double voters in the 2016 election. (Only a handful of instances of actual double-voting have emerged, on a statistically insignificant scale.)
The study was then cited in an essay for the conservative National Review by Hans von Spakovsky, another member of the presidential commission and a longtime advocate of voter purge lists – including a notorious one he helped craft in Florida that was found by one county to be 95% inaccurate.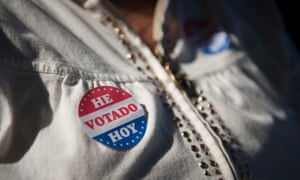 In some instances, Kobach is pressing issues on which he has already fought and lost. Long before Donald Trump became president, he lobbied hard to use the Save database on immigrant benefits to police voter fraud. But his fellow secretaries discovered the organization's records were not systematically updated and did not include any reliable mechanism to separate out individuals with the same name or to determine whether someone had obtained US citizenship.
"Within 10 minutes everyone on the call agreed it would not be a good idea," said Denise Merrill, Connecticut's elections chief and a past president of the National Association of Secretaries of State.
Kobach's ambition to rewrite the NVRA was first revealed in closeups of a photograph of him carrying a briefing paper into a meeting with then president-elect Trump last December. The NVRA – often known as the Motor-Voter act because it enabled Americans to register to vote when renewing their driver's licenses – sets strict rules for striking names off voter rolls.
That, however, has not stopped Indiana, the vice-president's home state, from passing a law authorizing the removal of anyone flagged as a double-voter by the Crosscheck system without following the procedures laid out in the NVRA. That law is now being challenged in court.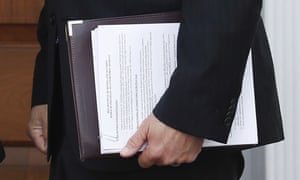 Nor has it stopped Ohio from continuing to argue, despite a court injunction, that it should be allowed to initiate the removal process based on an individual's failure to vote in two or more elections. The Obama-era justice department had previously opined that this violated the 1993 law. Now, under Trump, the DoJ has filed a new brief siding with Ohio – a maneuver that has shocked many election lawyers because they do not see any wiggle room in either the language or the law or the intent of the legislators who wrote it. The case is now headed to the supreme court.
It is far from clear how far Kobach will get with his agenda, especially given the scathing reception he has received so far. Earlier this month, an allegation that fraudulent out-of-state voters had swung both the presidential race and a close Senate race in New Hampshire last year prompted the Granite State's entire congressional delegation to rise up in condemnation.
Still, it may have an impact on public opinion. Polls have consistently shown a majority of Americans believing what they hear from Republican politicians about voter fraud. That, in turn, has been used by Republican politicians as justification enough to push for new restrictive voting laws. In a prescient ruling issued more than a decade ago, the Missouri supreme court warned that "the tactic of shaping public misperception could be used in the future as a mechanism for further burdening the right to vote or other fundamental rights".
Many observers point out that past presidential commissions on voting have been scrupulously bipartisan and recruited universally recognized experts in their fields. This one, by contrast, appears to be driven largely by one man on a mission to make what Rosenberg, the voting rights specialist, called "fallacious recommendations".
Last week, an email obtained through a public records request showed that Spakovsky had originally opposed including "mainstream Republicans" or any Democrats at all, for fear that they would guarantee the commission's "failure".
That, in turn, suggests an issue of institutional abuse going against the 1972Federal Advisory Committee Act, over and above the concerns about voting integrity.
"There is no need for this commission to be looking into voter fraud," said Rosenberg, whose group is suing the presidential commission over its work and its lack of transparency. "It should be trying to come up with ways to make it easier for people to vote, not harder for people to vote."