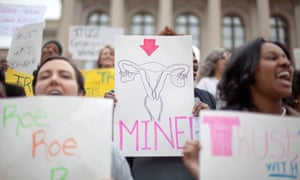 Donald Trump has reportedly appointed to a position overseeing the US's family planning safety net a law professor who once stated that "contraception doesn't work" and "family planning is something that occurs between a husband and a wife and God, and it doesn't really involve the federal government."
The prospect of Teresa Manning becoming deputy assistant secretary for population affairs at the Department of Health and Human Services, first reported by PoliticoPro, has led reproductive rights activists to demand that Trump withdraw the appointment, saying his choice could jeopardize the federal program responsible for preventing millions of unplanned pregnancies, and by extension, abortions.
Manning's appointment would give her oversight of Title X, a quarter-of-a-billion-dollar federal program that provides contraceptive services to low-income and uninsured women and men, and a hand in guiding the federal government's policy toward teen pregnancy, family planning, and pregnancy prevention.
"Teresa Manning's appointment is unacceptable," said Dawn Laguens, Planned Parenthood's executive vice-president. "This is the fox guarding the hen house, and women with low incomes will pay the price. We are at the lowest rate of unintended pregnancy in 30 years and a historic low for teen pregnancy because of access to birth control. Someone who promotes myths about birth control and reproductive care should not be in charge of the office that is responsible for family planning at HHS."
Manning is an adjunct law professor teaching legal research and writing at George Mason University. She previously worked with the National Right to Life Committee, an anti-abortion group, and the Family Research Council, an arch-conservative lobbying group known for its virulent opposition to LGBT rights.
Manning once sued the University of Iowa law school for passing her over for a professorship, claiming the dean of the law school had discriminated on the basis of her political views. (The school claimed that Manning didn't offer to fulfill all of the job's requirements.)
The administration has not publicly confirmed Manning's appointment, but PoliticoPro reports that she already appears in the agency's directory.
Manning made her comments on contraception and family planning during a 2003 media tour to promote a book she had edited about the future of the anti-abortion movement.
"I always shake my head," she told C-Span, explaining her views on family planning. "You know, family planning is something that occurs between a husband and a wife and God, and it doesn't really involve the federal government, much less the United Nations, where we hear about family planning all the time. What are they doing in that business?"
In an interview with Boston's NPR affiliate, Manning, who at the time went by Teresa Wagner, claimed that "contraception doesn't work".
"Its efficacy is very low," she said, "especially when you consider over years – which, a lot of contraception health advocates want to start women in their adolescent years, when they're extremely fertile, incidentally, and continue for 10, 20, 30 years. The prospect that contraception would always prevent the conception of a child is preposterous."
In fact, many types of contraception, particularly IUDs and other implants designed to stay in the body for long periods of time, have a nearly 100% success rate at preventing pregnancy.
The federal family planning program which Manning will oversee has provided thousands of such devices to US women.
In 2014, Title X provided contraceptive drugs, devices, and counseling for nearly 4 million women who rely on the public safety net for their family planning needs. The same year, the program prevented nearly 1 million unintended pregnancies and more than 300,000 abortions.
Earlier this year, in a move that could weaken the network of family planning clinics that use Title X funds, Trump signed legislation encouraging states to divert Title X funding away from Planned Parenthood.
Manning is not the first opponent of reproductive rights to receive a high-level appointment in the Trump administration.
Tom Price, the head of the HHS, opposes the Obama-era requirement that health insurance plans cover contraception with no co-pay and once challenging a reporter to "bring me one woman" who struggled to afford contraception on her own.
In February, Trump named a health policy aide to the White House Domestic Policy Council, Katy Talento, who believes that taking birth control before pregnancy can lead to miscarriages and infertility, assertions unsupported by any medical evidence.
And on Friday, the administration named Charmaine Yoest, the former president of Americans United for Life, to head the health department's public communications strategy. Yoest is a longtime foe of abortion rights who dismisses the notion that contraception has a role to play in reducing abortions as a "red herring".